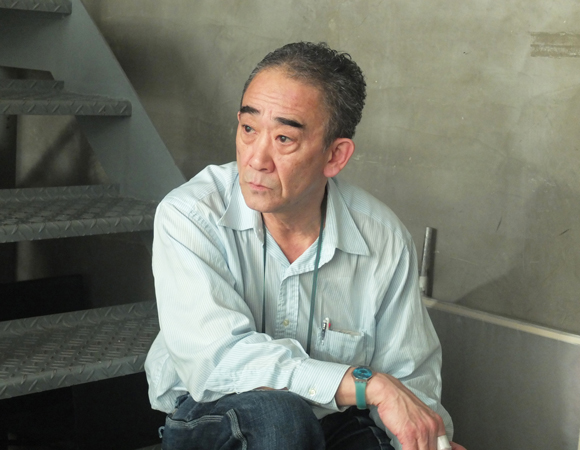 1951, Né à Morioka, Iwate, Japon. Vit et travaille à Tokyo.
1971-75, Étudie à la Tokyo Zokei University, B.F.A.
1975-77, Étudie à la Tokyo University of the Arts, M.F.A.
1986-87, Séjourne à Londres grâce au programme d'étude du gouvernement pour les artistes japonais à l'étranger.
1991, Lauréat du 1er Takashimaya Charitable Trust for Art and Culture Prize.
1995, Lauréat du 26ème Nakahara Teijiro Excellence Prize.
1997, Lauréat du 18ème Hirakushi Denchu Prize.
2003, Lauréat du 33ème Nakahara Teijiro Prize.
2009, Lauréat du 50ème Mainichi Art Award. Lauréat du 59ème Ministry of Education, Culture, Sports, Science and Technology's Art Encouragement Award.
2011, Reçoit la Médaille au Ruban Pourpre. Professeur invité à la Tokyo Zokei University.
Principales expositions
Expositions personnelles

2015
Galerie Albrecht, Berlin, Allemagne
Hyogo Prefectural Museum of Art / Gunma Museum of Art, Tatebayashi /
Mie Prefectural Art Museum / Niigata City Art Museum (-'16), Japon
Museum Wiesbaden, Allemagne
2014
Ando Gallery, Tokyo, Japon
2013
Tabloid Gallery, Tokyo, Japon
Imavision Gallery, Taipei, Taïwan
Imavision Gallery, Taipei, Taïwan
2012
Suzaka Hanga Museum, Nagano, Japon
Menard Art Museum, Aichi, Japon
2011
Kami City Art Museum, Kochi, Japon
Annely Juda Fine Art, Londres, Angleterre
2010
Nishimura Gallery, Tokyo, Japon
Contemporary Art Museum, Kumamoto, Japon
2008
Nishimura Gallery, Tokyo, Japon
Greenberg Van Doren Gallery, New York, Etats-Unis
Tokyo Metropolitan Teien Art Museum, Japon
Ando Gallery, Tokyo, Japon
2007
Galley Art Composition, Tokyo, Japon
Tohoku University of Art and Design, Yamagata, Japon
2006
Cité Du Livre, Aix-en-Provence, France
Nishimura Gallery, Tokyo, Japon
2005
Tokyo Zokei University, Zokei Gallery, Japon
2004
Museum of Contemporary Art Tokyo, Japon
Galerie Frank Schlag & Cie, Essen, Allemagne
2003
Museum of Contemporary Art Tokyo / Tochigi Prefectural Museum of Fine Arts / Hokkaido Asahikawa Museum of Art / Takamatsu City Museum of Art / Iwate Museum of Art / Hiroshima City Museum of Contemporary Art (-'04), Japon
2002
Nishimura Gallery, Tokyo, Japon
2001
Nishimura Gallery, Tokyo, Japon
2000
Continental Gallery, Sapporo ('06), Japon
Gallery Tamura, Hiroshima ('02, '04, '07, '09, '12), Japon
1999
Annely Juda Fine Art, Londres, Angleterre / Kunsthalle Recklinghausen, Allemagne / Städtische Museen Heilbronn, Allemagne (-'00)
1997
Ibara Municipal Denchu Art Museum, Japon
1996
Annely Juda Fine Art, Londres, Angleterre
Nishimura Gallery, Tokyo, Japon
1995
Nishimura Gallery, Tokyo, Japon
1994
Stephen Wirtz Gallery, San Francisco, Etats-Unis
André Emmerich Gallery, New York, Etats-Unis
1993
Nishimura Gallery, Tokyo, Japon
The Museum of Modern Art, Kamakura, Japon
1991
Nishimura Gallery, Tokyo, Japon
Annely Juda Fine Art, Londres, Angleterre
1990
Nishimura Gallery, Tokyo, Japon
1989
Comme des Garçons, Tokyo, Japon
Arnold Herstand & Company, New York, Etats-Unis
1988
Nishimura Gallery, Tokyo, Japon
1985
Nishimura Gallery, Tokyo, Japon
1982
Gallery Okabe, Tokyo, Japon
Expositions de groupe
2015
40 Years plus, Nishimura Gallery, Tokyo, Japon
2014
Nishimura Gallery 40th Anniversary Exhibition, Nishimura Gallery, Tokyo, Japon
2013
New Year New Works, Nishimura Gallery ('14), Tokyo, Japon
Re: Quest –Japanese Contemporary Art since the 1970s, Museum of Art, Seoul National University, Corée
Graduates from Tokyo Zokei University who departed from Exhibition of New Figurative Sculpture, Tokyo, Japon
Zokei University Museum / Gallery Saoh & Tomos, Tokyo, Japon
Toward Holiness, The Museum of Modern Art, Ibaraki, Japon
Six Solo Exhibitions The Bonds between us, Karuizawa New Art Museum, Nagano, Japon
2012
The Magic of Ceramics ~Artistic Inspiration, The Shigaraki Ceramic Cultural Park, Shiga and toured, Japon
35 Years plus, Exhibition for publication of"Nishimura Gallery 35 Years plus", Nishimura Gallery , Tokyo, Japon
The Story of Tokyo Metropolitan Art Museum, Tokyo Metropolitan Art Museum, Japon
The Power of Japanese Contemporary Sculpture, AKI Gallery, Taipei, Taïwan
When to Be Free, Okayama Prefectural Museum of Art, Japon
The Power of Three-dimensional Shape, Sapporo Art Museum, Japon
2011
I wanna hold you! Modern Japanese Wood Sculpture: 19th century-, Takaoka Art Museum / Hekinan City, Japon
Tatsukichi Fujii Museum of Contemporary Art / Hiroshima Prefectural Art Museum (-'12), Japon
Charity Auction to Benefit the Reconstruction after the Great East Japan Earthquake: Art of Our Time, Tokyo Art Club, Japon
Released from the Procession, Gallery Saoh, Tokyo, Japon
Graphics, Nishimura Gallery, Tokyo, Japon
2010
Nobuyoshi Araki and Katsura Funakoshi "An Image of Love Supreme", Takahashi Collection Hibiya, Japon
E・MA・KI, Nihonbashi Mitsukoshi, Japon
2009
Drawings, Nishimura Gallery, Tokyo, Japon
Hundred Stories about Love, 21st Century Museum of Contemporary Art, Kanazawa, Japon
Seven –Nishimura Gallery 35th Anniversary, Nishimura Gallery, Tokyo, Japon
Jan Fabre x Katsura Funakoshi Alternative Humanities, 21st Century Museum of Contemporary Art, Kanazawa, Japon
2008
Self / Other, The National Museum of Modern Art, Tokyo, Japon
Found Beauties from Companies and Private Collections in Kitakyushu, Gallery 130, Kitakyusyu, Japon
Form from Warmth of the Wood and Play, Nerima Art Museum, Japon
Inspiration from Buddha sculpture, Kodaira Hirakushi Denchu Art Museum, Japon
DOMANI: The Art of Tomorrow, The National Art Center, Tokyo, Japon
2007
Vital Signs: Reality of nine contemporary artists, Yokosuka Museum of Art, Japon

Forest of the 20th Century Art, Aichi Prefectural Museum of Art, Japon
2005
Katsura Funakoshi Ernst Barlach: A Map of the Time, Annely Juda Fine Art, Londres / Ernst Barlach Haus, Hambourg, Allemagne
2004
Time of My Life, Tokyo Opera City Art Gallery, Japon

Art in Wood, Gunma Museum of Art, Tatebayashi, Japon
New Works by Five Artists, Nishimura Gallery, Tokyo, Japon
2003
Yasutake Funakoshi and His Family, Morioka Takuboku and Kenji Museum, Japon

The Presents from the Artists, Niigata City Art Museum and toured (-'04), Japon
2002
Takashimaya Art Award Exhibition, Tokyo Nihonbashi Takashimaya / Yokohama Takashimaya Gallery / Osaka Nanba Takashimaya Grand Hall / Kyoto Takashimaya Grand Hall, Japon
Human Figure, Asahi Beer Oyamazaki Villa Museum, Japon
Zokei the Sculpture Show, Yokoyama Memorial Manzù Museum, Tokyo Zokei University, Asahi Beer
Oyamazaki Villa Museum, Japon

Sculptors of Eastern Japan, Tokyo Station Gallery, Japon
Trends of Japanese Modern Sculpture, Kitami Region Museum of Science, History and Art, Japon
Beauty of Tohoku, Fukushima Prefectural Museum of Art, Japon
2001
Between Earth and Heaven, Museum of Modern Art, Ostende, Belgique
September, Nishimura Gallery ('02, '03, '07, '08, '10, '12), Tokyo, Japon 

Art for the Spirit Eyes Searching for Eternity, Hokkaido Museum of Modern Art, Japon
2000
Modernité Japonaise, Hôtel de la Monnaie, Paris, France

Expo 2000 Hannover, Pavilion of the Holy Sea, Hanovre, Allemagne

Kareidoscope of Time, Fukui City Art Museum, Japon
Japanese Art in the 20th Century, Museum of Contemporary Art Tokyo, Japon

Shanghai Biennale 2000, Shanghai Art Museum, Chine
1999
Noontime Meditation—Contemporary Japanese Art having Inner Sight, Tochigi Prefectural Museum of Fine Arts, Japon
Destruction and Construction, The University Art Museum, Tokyo University of the Arts, Japon
Asian Potential Art Nursed by Sea and Islands, Aichi Prefectural Museum of Art, Japon 
Art Fair Tokyo, Tokyo International Forum Exhibition Hall ('07, '08, '09, '11, '12, '13, '14), Japon
Scenery at Heart: from Kotaro Terada's eyes, Kawagoe City Art Museum, Japon
1998
Art Chicago, Navy Pier Festival Hall, Chicago ('00), Etats-Unis
Sculpture in Tohoku, The Akita Museum of Modern Art, Japon
1997
On Paper, Nishimura Gallery ('00, '12), Tokyo, Japon
1996
Narcissism: Artists Reflect Themselves, California Center for the Arts Museum, Etats-Unis
Enjoy Art Part II, Isetan Museum of Art, Tokyo, Japon
Masterpiece from Corporate Collections, Hotel Okura, Tokyo, Japon
A Dialogue between Tools and Arts, The Museum of Modern Art, Kamakura, Japon
Images of Women in Japanese Contemporary Art 1930's-90's, The Shoto Museum of Art, Tokyo, Japon
1995
Art in Japan Today 1985-1995, Museum of Contemporary Art Tokyo, Japon

Japanese Culture: The Fifty Postwar Years 1945-1995, Meguro Museum of Art, Tokyo and toured, Japon
Anthony Caro, Museum of Contemporary Art Tokyo, Japon
1994
Contemporary Human Figure, Hokkaido Museum of Modern Art, Japon
New Works at New Gallery, Nishimura Gallery, Tokyo, Japon
A Sculpture Show, Nishimura Gallery, Tokyo, Japon
Artventure, The Museum of Modern Art, Shiga, Japon
1993
Tsubaki-kai Exhibition, Shiseido Gallery, Tokyo ('95), Japon
Karuizawa Drawing Biennale 1993, Wakita Museum of Art, Nagano / Marugame Genichiro-Inokuma Museum of Contemporary Art, Kagawa (-'94), Japon
History of Japanese Modern Sculpture, Kushiro Lifelong Learning Center Art gallery, Japon
1992
Prediction, Nishimura Gallery, Tokyo, Japon
Japanese Modern and Contemporary Wood Sculptures, The Okayama Prefectural Museum of Art, Japon
Documenta IX, Kassel, Allemagne
The 9th Biennale of Sydney, Australie
1991
Tokyo Art Expo, Tokyo Convention Hall ('92), Japon
A Current of Contemporary Art in Japan-Sculpture, The Museum of Modern Art, Toyama, Japon
Sculptures / Objects, Nishimura Gallery, Tokyo, Japon
1990
Transformation of Material and Space, Kanagawa Prefectural Hall Gallery, Yokohama, Japon
Toyama Now '90, The Museum of Modern Art, Toyama, Japon
Japanische Kunst der Achtziger Jahre, Frankfurter Kunstverein, Allemagne / Museum moderner Kunst Stiftung Ludwig Wien, Autriche
New Wave of Wood Sculptures, Hokkaido Asahikawa Museum of Art, Japon
1989
Setagaya Art: Art and Crafts - Produced by Artists of Setagaya Ward, Setagaya Art Museum ('90, '91, '94-'95, '97-'98, '98-'99), Japon
Against Nature: Japanese Art in the Eighties, San Francisco Museum of Modern Art and toured (-'91), Etats-Unis
Art Exciting '89, The Museum of Modern Art, Saitama, Japon / Queensland Art Gallery, Australie
Sculpturesque Image, Gallery Haku, Osaka, Japon
The XX São Paulo Biennale, Brésil
1988
Contemporary Japanese Sculpture and Prints, The Rotunda Exchange Square, Hong Kong
The XXXX III Venice Biennale, Italie
Seven Sculptors, Nishimura Gallery, Tokyo, Japon
1987
Shiga Annual '87 – Expressions of Human Figures, The Museum of Modern Art, Shiga, Japon
Situation of Contemporary Art of Tohoku II, Fukushima Prefectural Museum of Art, Japon
1986
New Trends in Contemporary Sculpture – 10 New Outstanding Sculptors of America and Japan, Contemporary Sculpture Center, Tokyo and Osaka, Japon / Sapporo Art Park, Japon / Salvatore Ala, New York, Etats-Unis (-'87)
Art in Tokyo '86 IMA Vol. 1, Factory (Sapporo Breweries Ebisu Warehouse), Japon
Three Artists, Nishimura Gallery, Tokyo, Japon
A Scene of Contemporary Art 3: The New Generation, Miyagi Museum of Art, Japon

1985
Nichido Sculpture, Galerie Nichido, Tokyo, ('86), Japon
Summer Show, Nishimura Gallery ('93, '95, '96, '98, '99, '00, '05, 06, '10, '11, '13), Tokyo, Japon
Tama Vivant '85, Gallery at Building No.1 of Tama Art University Hachioji Campus / Gallery Space 21, Tokyo, Japon

1984
10th Anniversary Exhibition of Sculpture of Ayumikai, Chiba Prefectural Museum of Art, Japon
Oyama-Towards a City with Sculpture, Hakuo Womens Junior College, Tochigi, Japon
Evolution of Sculpture 1930-1980, Gallery Seiho, Tokyo, Japon

1978
Exhibition of New Figurative Sculpture in Autumn, Yokyo Hall, Tokyo ('80, '82), Japon
1976
Exhibition of New Figurative Sculpture, Tokyo Metropolitan Art Museum ('77, '78, '79, '80, '81, '82, '83, '84, '85), Japon

Collections publiques
Aichi Prefectural Museum of Art, Nagoya, Japon

Ishinomaki Culture Center, Japon
Iwate Prefecture (Iwate Prefecture Citizen's Cultural Exchange Center Aiina), Japon
Iwate Museum of Art, Japon
Museum Wiesbaden, Allemagne
Würth Collection, Allemagne
Catholic Church Zushi, Kanagawa, Japon
The Museum of Modern Art, Kamakura & Hayama, Japon
21st Century Museum of Contemporary Art, Kanazawa, Japon
Karuizawa New Art Museum, Japon
The Nishi-Nippon City Bank, Ltd., Fukuoka, Japon
Kami City Art Museum, Japon
Kirishima Open-Air Museum, Kagoshima, Japon
Kurume City, Fukuoka, Japon
The Museum of Art, Kochi, Japon
The National Museum of Art, Osaka, Japon
The Cultural Foundation of Okada, Paramita Museum, Mie, Japon
Sapporo Art Museum, Japon
Shiseido Art House, Shizuoka, Japon
Sumida Triphony Hall, Tokyo, Japon
St. Andrews Tokyo, Japon
Setagaya Art Museum, Tokyo, Japon
Takahashi Collection, Tokyo, Japon
Takamatsu City Museum of Art, Japon
Museum of Contemporary Sculpture affiliated to Chosenin temple, Tokyo, Japon
Tokyo Opera City Art Gallery, Japon
Museum of Contemporary Art Tokyo, Japon
The Tokushima Modern Art Museum, Japon
Tochigi Prefectural Museum of Fine Arts, Japon
The Museum of Modern Art, Toyama, Japon
Asahikawa Museum of Sculpture in Honor of Teijiro Nakahara, Japon
Nagoya City Art Museum, Japon
Nogi Town (deposited at Tochigi Prefectural Museum of Fine Arts), Japon
Our Lady of the Lighthouse Trappist Monastery, Hakodate, Japon
Hiroshima City Museum of Contemporary Art, Japon
Hyogo Prefectural Museum of Art, Japon
The Hess Art Collection, Californie, Etats-Unis
Nakayama Toge Mori no Bijutsukan (Museum), Hokkaido, Japon
Hokkaido Asahikawa Museum of Art, Japon
Centre Pompidou, Paris, France
McMaster Museum of Art, Hamilton, Canada
The Metropolitan Museum of Art, New York, Etats-Unis
Menard Art Museum, Aichi, Japon
Museum Ludwig, Cologne, Allemagne